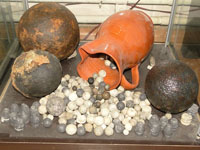 The title is with a positive angle.
If you're gonna think about all the horror or war around the world war has giving, you wouldn't enjoy a lot of finds we make with our detectors. So yes, respect for the history worldwide, but also a lot of joy when we find a piece of war history.
At my home place, are fought many wars. The Romans and the Vikings have been here, but also the great sea battle at the Gouwe just around the 14th century. Then the Spanish invaded about 1500, then the French. And as we all know the Germans with WWII.
From Minelab Success Stories
https://cdn.seriousdetecting.com/wp-content/uploads/2013/10/160476.jpg
150
200
Ewout Kozel
https://cdn.seriousdetecting.com/wp-content/uploads/2018/12/SDlogoMain.gif
Ewout Kozel
2013-04-11 20:53:27
2013-04-11 20:53:27
War, what is it good for? from Minelab Success Stories